Teaching Quality Framework
Development of the Teaching Quality Framework
In Fall 2020, a Teaching Quality Taskforce was convened to identify characteristics, values, and processes to support the development and evaluation of quality courses across all modalities. The task force was led by members of the Center for Academic Excellence (now named CETLSS) Leadership Team and consisted of representatives of each college who were nominated by the Deans.
The work of the task force was rooted in two major processes: operationalizing the notion of "transformative education" as it applies to teaching and learning, and utilizing best practices and evidence-based approaches to developing suggested processes to support faculty growth in teaching excellence. The task force worked from a definition of transformative learning that articulates learning as a process that goes beyond learning facts to involve the processes of questioning beliefs, assumptions, and frames of reference (Mezirow, 2009) to guide their process while synthesizing the evidence that connects quality teaching to increased student achievement. They then worked together to align the literature and practices to the Appalachian State mission and goals to create a statement, a growth guide, and set of processes that can be implemented by departments and/or individuals with the goal of developing and advancing teaching quality across modalities.
A graphic depiction of the dimensions of the framework is shown below. For a text-based explanation of the following graphic, please click here.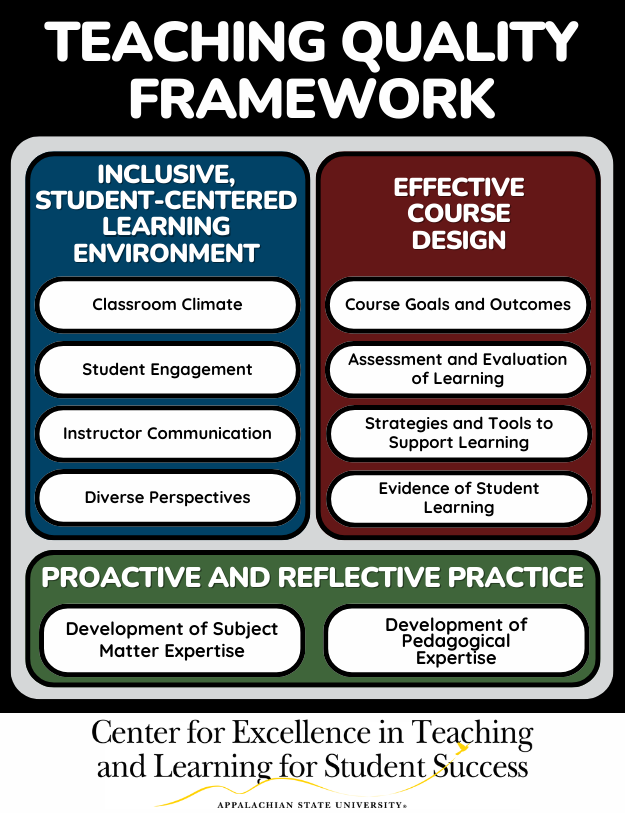 Teaching Quality Framework Grants
CETLSS is interested in funding projects that focus on enhancing the practice, assessment, and/or support of high-quality teaching at Appalachian State, aligned to App State's Teaching Quality Framework. We are happy to support groups of individuals interested in engaging in this work, such as departments, programs, committees, or interdisciplinary collaboratives. Up to you $3500 per project is available.
For complete information, including our Google Form application, please click here.
For a text-based version of the information contained in the following graphic, please click here.