On Friday, July 21st, participants from a wide variety of schools (ranging from UNCG, UNC Asheville, ECU, and even ETSU) traveled to Appalachian to attend the 2017 Appstate Free-Learning Conference. This unique event gathers members from all levels of academia to learn the latest tech tools for effective teaching and learning with technology.
The conference kicked off with the Human Spectrogram and Fireside Chat. Attendees were encouraged to grab breakfast and a drink provided by iClicker and catered by Panera before the first session.
The Free-Learning Conference offered 24+ different sessions on topics such as accessibility, advice on course design, technology integration, and distance learning. The presentations were spread across four 55 minute time slots spread across six locations in Belk Library.
The conference ended with Campfire, Cupcakes, and Conversation. Campfire themed cupcakes made by the Food Services Bake Shop were provided to the remaining guests before the workshop concluded.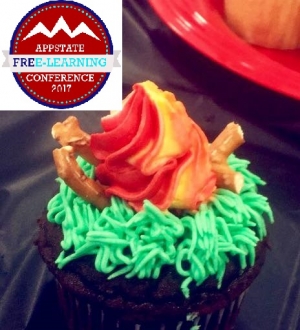 Tags: