The Digital Design and Fabrication Learning Community, originally referred to as Generative Design prior to 2022, is a group of faculty and staff exploring the professional and educational use of computer aided design (CAD) and digital fabrication hardware used for three-dimensional design, visualization, and fabrication. The group focuses on multiple applications and forms of output related to digital design and fabrication, including but not limited to Rhino3D and Grasshopper 3D. Through monthly meetings held throughout the semester, the learning community develops skills in teaching with digital design and fabrication software applications and hardware, as well as exchanges ideas with each other and disseminates knowledge within the campus community through public opportunities such as gallery presentations.
The group has recently begun proposing and working on an exhibition of their work to showcase in a campus gallery, either the Plemmons Student Union or the Turchin Center. The team includes faculty and staff from the departments of Art, Applied Design, and Sustainable Technology and the Built Environment. This will be their first exhibition since the learning community started, and will consist of new works that use digital design and fabrication tools in unique ways.
One of the key features of this exhibition will be the description of not only the work, but the processes used and its stages of ideation, design development, production methods, and/or material exploration. In other words, each work will be accompanied with an explanatory piece that connects the dots from concept to execution. The works displayed will range from 2D images to sculptures, and will include a wide range of tools such as 3D modeling software, 3D printers, CNC machines, and more. The exhibition is expected to be up between Fall 2022 and Spring 2023.
Any faculty or staff member interested in exploring and teaching these tools are welcome to join. For more information on how to join, contact Richard Elaver at elaverra@appstate.edu or Derek Eggers at eggersdc@appstate.edu.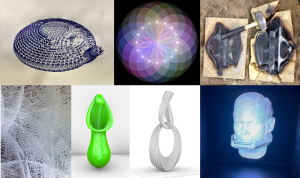 Tags: