It has been an absolute pleasure serving the Appalachian community this semester!
With a slew of data collected, networking statistics compiled, logistical support achieved, and managing facility operations, please rest assure that this semester was a performance worthy of the finest Cirque du Soleil on the Las Vegas Blvd.
It is my hope that CAE Collaborative Support has played an enriching part in academic outreach for all those whom we were delighted to serve this semester.
Here are a few highlights from Fall 2016:
Global Understanding First Year Seminar - Appalachian faculty: Garner Dewy, Jessica Wood, and Kate Brinko
Interior Design Collaboration with Bilkent University, Turkey - Appalachian faculty: Jeanne Mercer-Ballard
Effective Global Communication with Burapha University, Thailand - Appalachian faculty: Ben Powell
Class Q&A Collaboration with Dr. Scott Bukatman author of Hellboy's World and faculty at Stanford University - Appalachian faculty: Craig Fischer
Collaborations with the University of Zululand, Africa - Appalachian main faculty host: Jesse Lutabingwa
Holland Fellows with Fudan University, China - Appalachian main faculty host: Jesse Pipes
Faculty Writing Group with Dr. Susan Robinson - Appalachian main faculty host: Glenn Ellen Stilling
Class Q&A with Rebecca Matteo, director of the National Center for PTSD - Appalachian faculty: Cameron Lippard
Among the many other classes, conferences, and ad hoc collaborative sessoins, we have been focused at supporting Appalachian and the UNC strategic plan to offer accessible, affordable, efficient, and an overall support of excellence in heightening student involvement and cultural exchanges from the remote seclusion of Boone, North Carolina.
While going into 2017, please don't hesitate thinking outside the box to explore how CAE Collaborative Support Services may be able to help you bridge constructive conversations from around the world to enage your students... or just something fun like a graphic novelist... as always, thanks for the fun sessions, Craig Fishcer!
It was an entertaining semester and we are ending it on a superb high note!
To you and yours, here's to a safe, warm, and happy winter break!

Now on to the next... See you in 2017!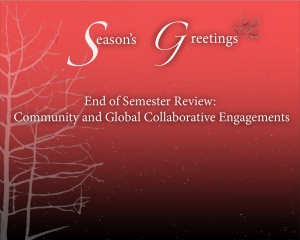 Tags: