Course (Re)Design Institute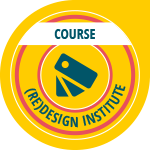 The Course (Re)Design Institute (CRDI) is designed to expand participants' knowledge and skill in designing and teaching quality courses. We offer course (re) design each May.

During the Institute, participants will have the opportunity to:
Learn how to apply research-based teaching and learning principles to course design;

Design or redesign a course built on learner-centered design principles; and


Network and collaborate with your peers across campus.
Course Redesign
Redesigning a class or a course is a learner-centered process that reimagines and reconceptualizes:
Why

a class exists

What the learning goals are

How students learn
The course redesign process then builds a class around those interests. Whether you are developing a class for the first time or revisiting it after several years of study and instruction, it is healthy to:
(Re)Consider your content

How you share your content

How students can reveal their knowledge, skills, and intellectual growth