In July of 2021, Dr. Sarah Arrington created the AsULearn Essentials and Beyond (link to syllabus) course with the purpose of helping faculty become more acquainted with AsULearn. It is a five-week course that offers guidance and best practices for a variety of AsULearn features such as adding content to your course, setting up the gradebook, using the VoiceThread feature, creating an interactive syllabus, and more. After completing the course, participants will earn an AsULearn Essentials badge, indicating that they have mastered the basic functions of the learning management system.
One of the biggest advantages of AsULearn Essentials and Beyond is that faculty are able to gain experience from a student's perspective. They participate in the course as a student, and are given assignments to do in their own course sites, such as creating a welcome page. The assignments are graded, and Dr. Arringotn facilitates the course by grading, sending out announcements, and acting as the contact person for any issues or questions. This first-hand experience allows faculty to better understand and improve the student experience for their own AsULearn courses.
Since the AsULearn Essentials and Beyond course was first launched, there have been 5 cohorts of faculty that have completed it. These cohorts are relatively small, allowing for more interaction and the sharing of ideas or tips between faculty. Additionally, after completion, participants still have access to the course and are able to refer back to it whenever needed.
The course has proven beneficial for both faculty and students. In an effort to gather feedback from faculty who have completed the course, one professor stated that the course was "useful to me as a new faculty member." In addition, another faculty member felt that the course should be mandatory for all faculty members and that it "can help departments with efforts to verticalize the curriculum and streamline collaboration."
This course is open for enrollment in preparation of the start of the semester. (Register Here). Departments can also schedule their own cohorts to go through the course together. For questions or to discuss more options, contact Dr. Sarah Arrington at arringtonsa@appstae.edu.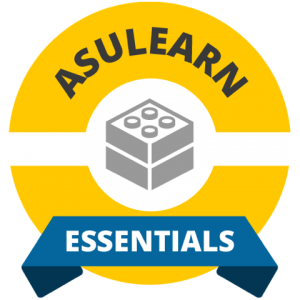 Tags: