Rachel Clark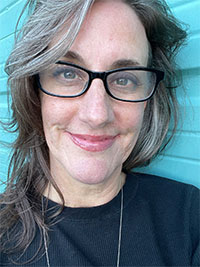 Rachel Clark
Interim Lead, Online Teaching and Learning
Instructional Design Specialist, College of Arts and Sciences
(828) 262-6154
clarkre2@appstate.edu
Rachel is Interim Lead for Online Teaching and Learning in the Center for Excellence in Teaching and Learning for Student Success (CETLSS) at Appalachian State University. In addition, she is Instructional Design Specialist to the College of Arts and Sciences, training its 500+ faculty in technologies that support learning and teaching and consulting in best teaching practices. She was an Instructional Technology Consultant in the former Center for Academic Excellence (CAE) to half of the College of Arts and Sciences for four years.
Leading into these roles, Rachel spent 12 years as faculty in Appalachian's Professional Writing program teaching Business Writing to students in Appalachian's Walker College of Business, teaching online for more than a decade of that. It was during this time her passion for excellence in teaching with technology was born, and she emerged as a department leader in online teaching modalities. Prior to that, she spent three years as Assistant Director of Appalachian's nationally recognized Summer Reading Program (now the Common Reading Program) training faculty and planning events, working with units all over campus to do so.
Before she began as a CAE ITC, Rachel was Appalachian's first certified facilitator of Quality Matters' flagship course Applying the QM Rubric and taught Appalachian's inaugural course to administrators and faculty across campus in Summer 2017. She is also a QM Course Review Manager as well as a Certified Peer Reviewer and was proud to be the instructional developer supporting Appalachian's first QM-certified course. She is dedicated to helping lead the university's initiatives toward better online offerings.
Rachel also has a passion for diversity, equity and inclusion. She is currently the CAE liaison to Appalachian's Inclusive Excellence team.
Rachel has an M.Ed. in English Education from the University of Georgia as well as an M.A. in English from Appalachian State. Prior to academia, Rachel had a career in news writing during which, with no formal journalism training, she worked her way from freelancing for a rural weekly to a position as the full-time education reporter for the second largest newspaper in Georgia. When she's not helping faculty with their teaching technology, Rachel enjoys her adult daughter, yoga, meditation, movies, hanging out with friends, cooking and hiking.